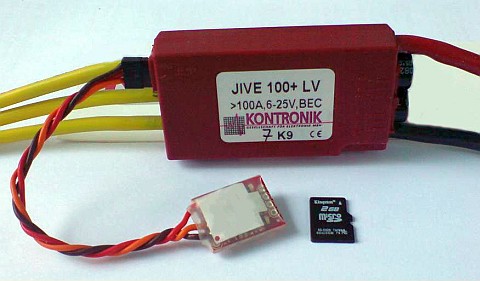 JLog, die Logger-"Briefmarke" für die Kontronik JIVE-Serie, wurde von Scholand Modellbau Berlin in limitierter Stückzahl (100) beginnend am 21. Oktober 2010 als Bausatz angeboten. Die paar Logger waren natürlich schnell ausverkauft. Der Logger, den wir heute "JLog1″ nennen, basierte noch auf einer zugekauften Platine von Sparkfun.
Die Software wurde nun für "JLog2″ umgeschrieben und wesentlich erweitert für eine eigene Hardware, die Platine leistet bei gleichen Abmessungen deutlich mehr. In ein bis zwei Wochen wird "JLog2″ durch deren Hersteller zur Auslieferung kommen.
Ich bedanke mich bei Herrn Michael Scholand für seine Courage und sein Engagement, die es ermöglichten, den Logger noch zum Ende der vorigen R/C-Saison zur Verfügung stellen zu können. Es wird immer so sein: Das Geburtshaus von JLog ist Scholand Modellbau.
Tom (Entwickler)
..
JLog the logging "stamp" for the Kontronik JIVE ESC series was supplied as a kit in a limited number of units (100) by Scholand Modellbau Berlin starting October-21 2010. The few loggers were sold out soon of course. The logger which we today name "JLog1″ were based on a PCB from Sparkfun bought in addition.
The software have been rewritten now for "JLog2″ on an own hardware. The PCB – with identical dimensions – provides much more functionality. In about a week or two "JLog2″ will be released and start delivery.
Many thanks to Mr. Michael Scholand for his courage and commitment allowing to provide the logger already at the end of the last R/C season. It will always be like this: The birthplace of JLog is Scholand Modellbau.
Tom (JLog's designer)