(Manufacturing of JLog2 is discontinued by SM-Modellbau, R²prototyping instead provides JLog2.5, which supports further ESCs as virtual multi-sensors. Sources: Links)
Special JIVE logger and telemetry interface
JLog

is a special data logger processing the diagnostic data stream of a Kontronik JIVE or 

Castle Creations

ICE

/

Edge
series ESC – data of the ESC's internal sensors and other data of the ESC. The logger stores the output as log files on a microSD card and drives a live stream through an USB interface or telemetry. Plotting of logs is preferably done by
LogView
.
Unique features are:
- high data capacity, small dimensions, low power requirement
- no data transfer required prior to data evaluation
- no complex cabling
- capturing of data that a native logger can't provide
- measurement readings not integrated (no rms values) what leads to real-life amplitudes
- configurable alarms – alarms by telemetry and/or alarm lines
- configuration and updating from the SD card
-

The logger

can be used also without an ESC.)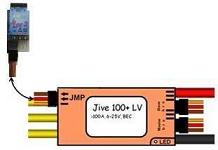 Differences between

JLog2

and

JLog1
Both loggers are of identical dimensions ("stamp") but based on different hardware:

JLog2


o connections for additional JLog-own sensors:
• analog temperature sensor or
• upto 5 digital temperature sensors or
• RPM sensor or
• upto 2 alarm lines, also pulsed for LEDs/Luxeons, Morse
• (With a simple D.I.Y. adaptor also temperature sensor(s) and RPM sensor may be connected at the same time, or one type of sensor and an alarm line.)
o live data or telemetry  
o 9 instead of 4 alarm types before (v.2.7)
o motor current calculation now more granular at all and more exact in border areas
o floating offset for calibration of values for motor and BEC current
o temperature compensation of the motor shunt in the JIVE as well as recalibration possibility
o calculation of cumulative mAh more precise once again
o now 31 in place of before 13 (respectively 18 with v.2.7) log values in LogView
o alternative to configure the logger also without a PC (JLC) by a JETIbox or Unidisplay
o besides telemetry also "wired" live data for setup purposes, with the displays JETIbox, SM Unidisplay or Graupner SmartBox
o updating the logger is no more individualized and done by a file on the mSD
o Further JLog-own sensors using special firmware (matrix), speed measurement with a pitot head and GPS, Robbe BID Chip, voltage, servo pulse lengths, etc.  JLog can also serve as a phase sensor for a governor. Most connections are shown here.
Data logged and displayed by

JLog2

(standard firmware)
Measurement readings and signals:
U-BEC [V] BEC output voltage
……………..,,…………..

I-BEC [A] BEC output current
U-BAT [V] main battery voltage

………………,…………

I-Motor [A] motor current
I-Motor/Int [A] motor current (integrated)

…….,……….

Throttle [%] throttle impulse length as seen by the JIVE
PWM-Motor [%] ESC "opening"

……………..,…………

RPM-Uni [1/min] rotor or propeller RPM
RPM-Motor [1/min] motor's RPM

………….,…………..

Capacity [mAh] cumulative mAh
Temp-PA [°C] temperature of the PA

…………………..

Temp-BEC [°C] temperature of the BEC
Power [W] motor input power

…………………………..

Power/Int [W] motor input power (integrated)
IbecMax [A] peak BEC current

………………………….

ImotMax [A] peak motor current
ALARM: Capacity [S] alarm on cumulative mAh

……..

ALARM: Ubat [S] alarm on main battery voltage
ALARM: TempPA [S] alarm on PA's temperature

……

ALARM: UbecDrop [S] alarm on drop of BEC voltage
ALARM: EXT: T1 [S] alarm on ext. temperature 1

…….

ALARM: EXT: T2 [S] alarm on ext. temperature 2
ALARM: EXT: T3 [S] alarm on ext. temperature 3

…….

ALARM: EXT: T4 [S] alarm on ext. temperature 4
ALARM: EXT: T5 [S] alarm on ext. temperature 5

…….

EXT: Temp1 [°C] external temperature 1
EXT: Temp2 [°C] external temperature 2

………………

EXT: Temp3 [°C] external temperature 3
EXT: Temp4 [°C] external temperature 4

………………

EXT: Temp5 [°C] external temperature 5
EXT: RPM [1/min] external RPM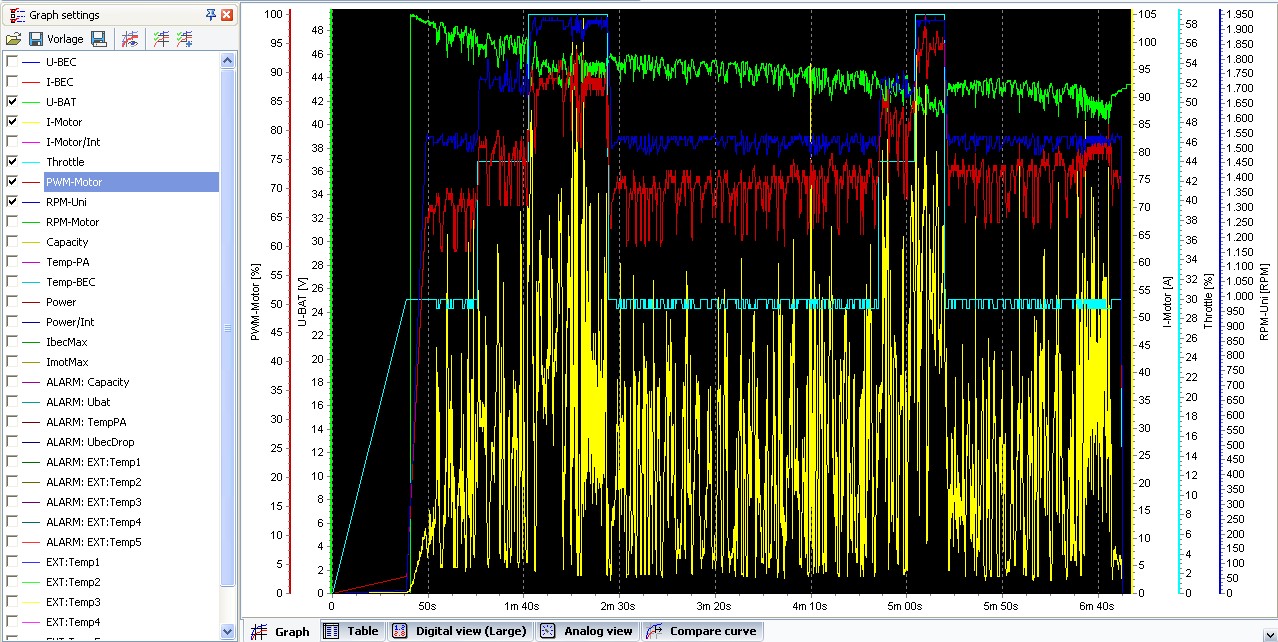 Configuring with
JLC

Telemetry